It sometimes seems like you're not making much progress and not accomplishing much, but if you keep looking back and looking forward you start to see more and more how much you're building. It gives clarity, focus and satisfaction. You can start to enjoy the view and the process.
Getting started with your own annual plan? Here's how to do it
Step 1: looking back first
Grab your calendar and look at what you did week by week. Make a summary of your year. Write down what new insights you gained and really stood out for you? What is the biggest lesson from the past year?
Then make two lists: one with all the things you were happy about in the past year. And one with the things you are less happy about. Using your calendar, flip through your photos, videos, notebooks, journals and social media. What were your highs and lows? What goals did you meet/not meet?
I am not satisfied with these
Now the goals: 
Did you have goals in the past year? Stick them here, and look back per goal. Made it? Congratulations! Failed? Write down in a few words why it failed.
Now go through the categories and reflect on what you did or didn't do. For each category below, write out your answers and thoughts.
Work
Relationship and family
Family
Friends
Health
Spiritual
Skills
Sideprojects
Fun
To give
To stop
Money – Income
Money Savin
As a final section, you will now look back quarter by quarter. This will help you not only look at the parts individually, but also look at the combination of things over time.
The last step of your retrospective, found at the top of this document. This review (step 1) is always the first, essential step for creating your upcoming annual plan.
Make a list of what you would like by category (work, relationship, family, friends, health and spending). You can do this on paper, with post-its, on a whiteboard or by drawing a mind map. 
And make sure that anything goes; nothing is too crazy.
Think outside the box, realism comes next.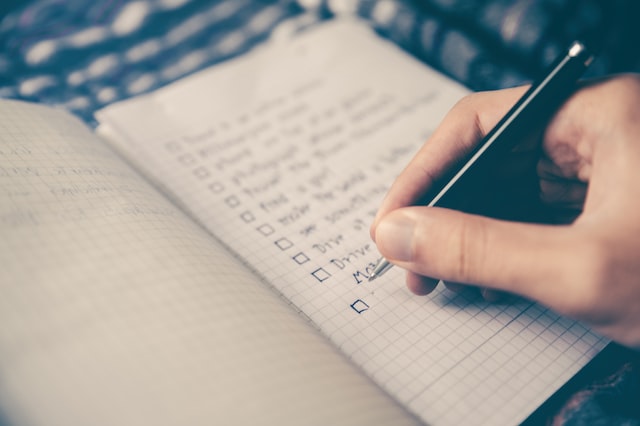 Now formulate 3 to 5 concrete, measurable goals per category for Q1. And make it clear to yourself when you have achieved a goal. In this way, outline your goals for in your annual plan, for the other three quarters.
Now you have a rough out-line of your annual plan, set an appointment with yourself each quarter in your calendar to look back on the quarter and look ahead to next quarter. Adjust your goals as needed. That way you can always build on what you've done and stay on track.
Getting started with your annual plan? Download the workbook now!
I'm curious about your experiences. Please let me know!
Greetings,